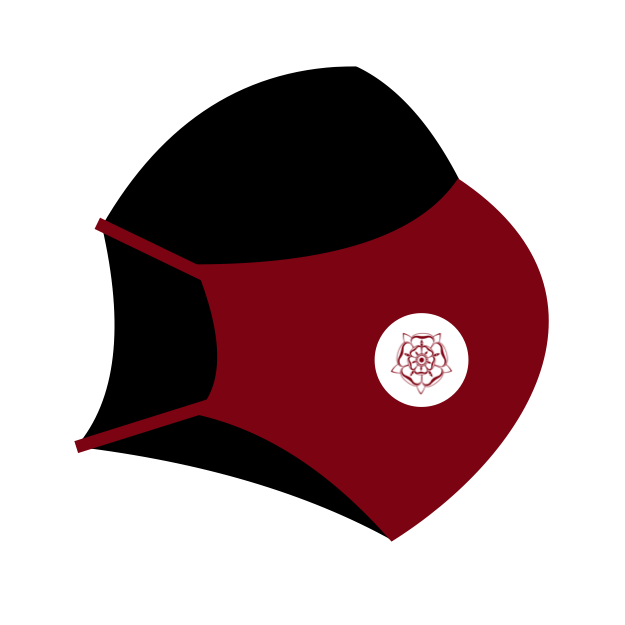 How to contact us
The best way to contact us is via our customer service team. Although you can contact us via our social media platforms, we cannot deal with any order related questions via social media.
When contacting our customer services team, please make sure you provide us with your order number.
You can contact us using the form on our contact page. 
Who are we?
We are part of the Huddersfield Textiles Group.  A global cloth manufacturer based in Yorkshire England serving 1000s of tailors, designers and costumers worldwide. By working closely with our sister companies and partners. We've created what we think is the best long term, reusable, high-quality mask to support individuals and companies alike through this Pandemic and beyond. 
Are you a UK Manufacturer?
Yes, we are, we are in Huddersfield, West Yorkshire.
What standard are the masks?
Our masks are not intended as medical grade masks. There is a global shortage of these medical masks and they need to be available for the frontline medical staff who are actively working to save lives every day. This is a great reason to buy a quality alternative.
Our masks are an excellent alternative and with Nanotech coating they are far superior to many of the plain cotton masks that are being sold right now. Nanotechnology is a water resilient layer that prevents droplets filtrating both in and out of the mask. Reusable/washable up to 100 times makes them cost-effective and environmentally friendly.
Some areas of the world are now imposing mask-wearing mandatory rules, which looks like a natural progression across the globe in the effort to slow the spread of the virus.
Is this mask tested like an N95 etc?
As this isn't a medical-grade mask and not intended for that use, this mask doesn't have the same safety certificate as required by medical-grade masks. We do however hope to have some testing certification soon, however, during these pandemic times the waiting list for this is very long!
Nanotech is already used in the medical industry. There are some very interesting studies in the use of Nanotechnology fabrics when used in the making of face masks. One study in February was even comparable to that of N95, so it is rather exciting!
What is Nanotech Fabric?
Nanotechnology fabrics are fabrics specifically manufactured to have special qualities like hydrophobicity, water-resistance and high durability. These enduring characteristics are created by weaving nanofibers (nano-whiskers) that have certain properties and by adding nanoparticles that can provide traits such as bacterial resistance and the "lotus plant" effect, which creates resistance to dirt and water. 
You can read more here: https://www.masksuk.com/nanotech-fabric-what-is-it/
How does this mask compare to others?
Our masks aren't comparable to many on the market as ours have the Nanotechnology layer. Apart from the Nanotech, they come in 3 different sizes for a good fit, 4 different colours and they are washable and reusable. We can't find any to compare them with that offer the same benefits!
Can you breathe through them?
Yes! Of course you can, otherwise what would be the point?  Do not confuse water resilience with waterproof. Nanotechnology is incredible in its water resilient effects whilst remaining soft, and of course breathable.
Why wear a mask?
The CDC (Centers for Disease Control & Prevention) recommends wearing face coverings whenever going out in public. Many countries are now starting to make this mandatory.
Masks can be the difference between life or death when it comes to the spread of airborne illness. When worn properly, masks may prevent droplets from both leaving and entering your mouth & nose, potentially preventing the spread of airborne illness, preventing you from getting others sick.
In a study testing the effectiveness of cloth masks, researchers found that a double layer tea towel made of cotton showed to be more effective at filtering particles than a single layer surgical grade mask. Our masks have 3 layers of cotton, and the outer layer features a Nanotech water repellant covering. This combination equates to a nearly 100% filtration efficiency.
Wearing masks is only one measure, we also encourage following other safe isolation practices to help slow the rapid spread of disease. These include safe social distancing, frequent hand washing, no touching of the face, isolation when sick, and seeking adequate medical attention as needed.
Why have we made masks?
Due to our existing company operations, we have direct access to staff, machinery, logistics and most importantly the Nanotech fabric. Having this at our fingertips we felt we needed to do something to help the worldwide issues. We want to support our medical staff by offering alternatives to the public, thus easing the global shortage that is currently an issue for medical services, by offering a high-quality alternative. We also have a duty of care to help our staff stay employed, pay their bills and feed their families, and whilst we will make a minimal profit, we can be active in helping to slow the spread of the disease in this worldwide pandemic.
How much is the mask?
1 mask is £12.49, 3 is £31.90, 10 is £99.90 plus shipping.
Can I buy in bulk?
Yes. We work on wholesale, please our Masks UK Wholesale website. There you can purchase bulk orders of 100-3000 units and enquire about 3000+ orders.
Sizing?
Please ensure that you follow the sizing guidelines and measurements before making your purchase.
Please note that the earloops may require some self-adjustment for a perfect fit.
An adjustable back strap may also be helpful to tighten the fit or to take the weight off of the ears.
Width – Extra Large 11.5″, Large 10", Medium 9.5", Small 9"
Length – Extra Large 5.5″, Large 5.25", Medium 5", Small 4.75"
How should I care for my mask?
Wash in cold water on a delicate cycle to preserve the nanotechnology properties for as many washes as possible.
Leave to dry naturally at room temperature. Do not dry on radiators.
Re shape thoroughly whilst damp and air dry only, without the use of heat.
Wash before use.
Retain the care instructions for future use.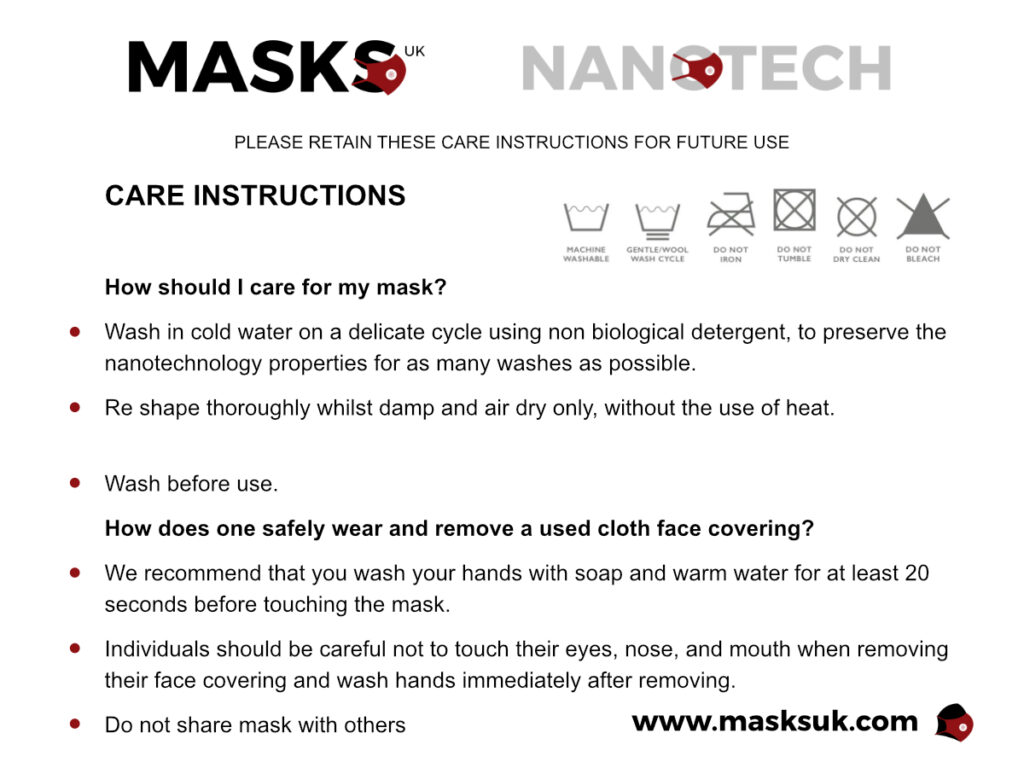 How to measure yourself for a mask
Measure from the front of the ear and over the bridge of the nose across to the front of the other ear. You can also measure from the top of the bridge of the nose to just under the chin for the mask length. Here's what the masks measure, but do remember that the Nanotech facemask fabric does offer some stretch, and has elastic ear loops. A tighter fit is more effective than loose.
Width – Extra Large 11.5″, Large 10″, Medium 9.5″, Small 9″
Length – Extra Large 5.5″, Large 5.25", Medium 5", Small 4.75"
Read more about how to measure yourself for our masks.
Why is the mask not washed at 60 degree like I have heard in the media?
The 60 degree washing guidelines are given to those working in a high viral load environment. If you work in this environment then please follow your employer's guidance.
For general use, going shopping and general life activities, the normal temperatures, like how we wash our hands, is enough to remove bacteria from a mask. The cool wash temperature protects the nanotechnology face mask fabric for longer term use.  Remember, we aren't advised to wash our hands at 60 degrees to remove the virus are we?
How often should it be washed?
Wash after use or the end of the day if you are at work. If wearing for many hours you must maintain high levels of hygiene practices. Hand washing etc. If you remove the mask during work it's probably best to leave it hanging from one ear to avoid touching it and having to put it down anywhere.
What is the delivery timescale?
We aim to dispatch your order within 3 working days of your order being made. We would like your order to be with you within 3-5 working days, however, the current delays with the postal service are beyond our control. Royal Mail have advised that a parcel is not deemed as lost at the moment until 12 working days have passed, since the dispatch date of your order.
If you have any further issues please use the contact form on our contact page and remember to submit your order number when contacting us. Customer services will respond within 48 hours Mon-Fri.
*Working days do not include bank holidays or weekends.
Do you offer large quantity discounts?
Yes, any order over 100 units is considered a wholesale order. Please contact us for costs and requirements here.
How to wear a face mask?
Ensure it fits snugly but comfortably against the side of the face.
Be secured with ties or ear loops.
Include multiple layers of fabric, ours have 3 and are Nanotech coated.
Be able to be laundered and machine dried without damage or change to shape. Ours are washable up to 100 times.
Cloth face coverings should not be placed on young children under age 2, anyone who has trouble breathing, or is unconscious, incapacitated or otherwise unable to remove the mask without assistance.
CDC recommends wearing cloth face coverings in public settings where other social distancing measures are difficult to maintain (e.g., grocery stores and pharmacies), especially in areas of significant community-based transmission. It is also still very important to maintain social distancing measures and maintaining a 2m/6ft distance from others.
The CDC does not recommend surgical masks or N-95 respirators. Those are critical supplies that must continue to be reserved for healthcare workers and other medical first responders, as recommended by current CDC guidance. Lets help our NHS by buying a good alternative and leave the medical masks for the people that really need them.
How does one safely remove a used cloth face covering?
Individuals should be careful not to touch their eyes, nose, and mouth when removing their face covering and wash hands immediately after removing.
Are you profiteering?
The profits made after the material costs of this product will be used to pay our workforce, who are working hard to meet demand. This means that they stay employed and their families fed, which is very important to us.
The cost of making this product is quite high, leaving the profit margin low, due to high costs for excellent materials such as nanotechnology fabric.
If we are able to, later down the line, we would love to be able to make some kind of donation back to the NHS. We already support several charities, so this is close to our heart.
Why are you not giving these to the NHS?
Firstly this mask is not medical grade and not for those working in high viral load environments.
Secondly, we have the manufacturing costs of the product to cover such as materials, workforce and machinery. If we gave these for free we would quickly be bankrupt and with no product to offer. Just like how supermarkets have to be paid for their products, we do too.
How do amend my order?
Sadly we can't amend or add to an order once it's been confirmed. Only amendments that can be made are to correct address mistakes.
If you made an error to your address please DO NOT reply to your confirmation email, as there is a high chance we won't see it until it is too late.
Email us with your order number to [email protected] as soon as you can and someone will get back to you to help you amend your order. If you wish to add something extra to your order please include your contact number in your email.
How do I order?
Visit the online shop www.masksuk.com/shop/ . Click BUY NOW. Then add your individual items to the basket, when you click to then view your basket they will be there and you can progress to the checkout to choose your payment option and leave your shipping details.
Can I mix colours and sizes for the multi purchase discount?
Yes. Just add your individual items to the basket and the multi discount will be applied at the checkout.